I'm back home from another wonderful visit to California, and it's been all go ever since my return. We are starting a major redecoration of our house tomorrow so I've been liaising with our interior designer, and having lots of things delivered in preparation. I've got a lot of things to get ready for the arrival of the workmen, including emptying my china cabinets…which could take some time!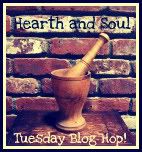 If you would like to make some new foodie friends and promote your blog, please come and link up to
Feed Me Tweet Me Follow Me Home.
Hope you are having a great week!