I can't believe it's been a whole week since I've managed to update this site! As always, the best place to find me is at the main site
The 21st Century Housewif
e. Just to help you catch up –
I had a fantastic time at the Taste of London Restaurant Festival, and even met the wonderful Gwyneth Paltrow, who was there promoting her new book. To read more, please click here.
There has been another gathering in Ina's Garden, and you are very welcome to share own links to posts about your experience with her Comforting and Delicious chicken recipes. I shared Ina's Lemon Chicken breasts last week, and yesterday I also made and shared her Tequila Lime Chicken.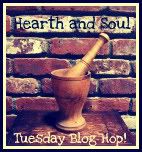 And of course, today it is time once again for the wonderful Hearth and Soul Blog Hop. To join in, please click here.
Hope your week is off to a great start!